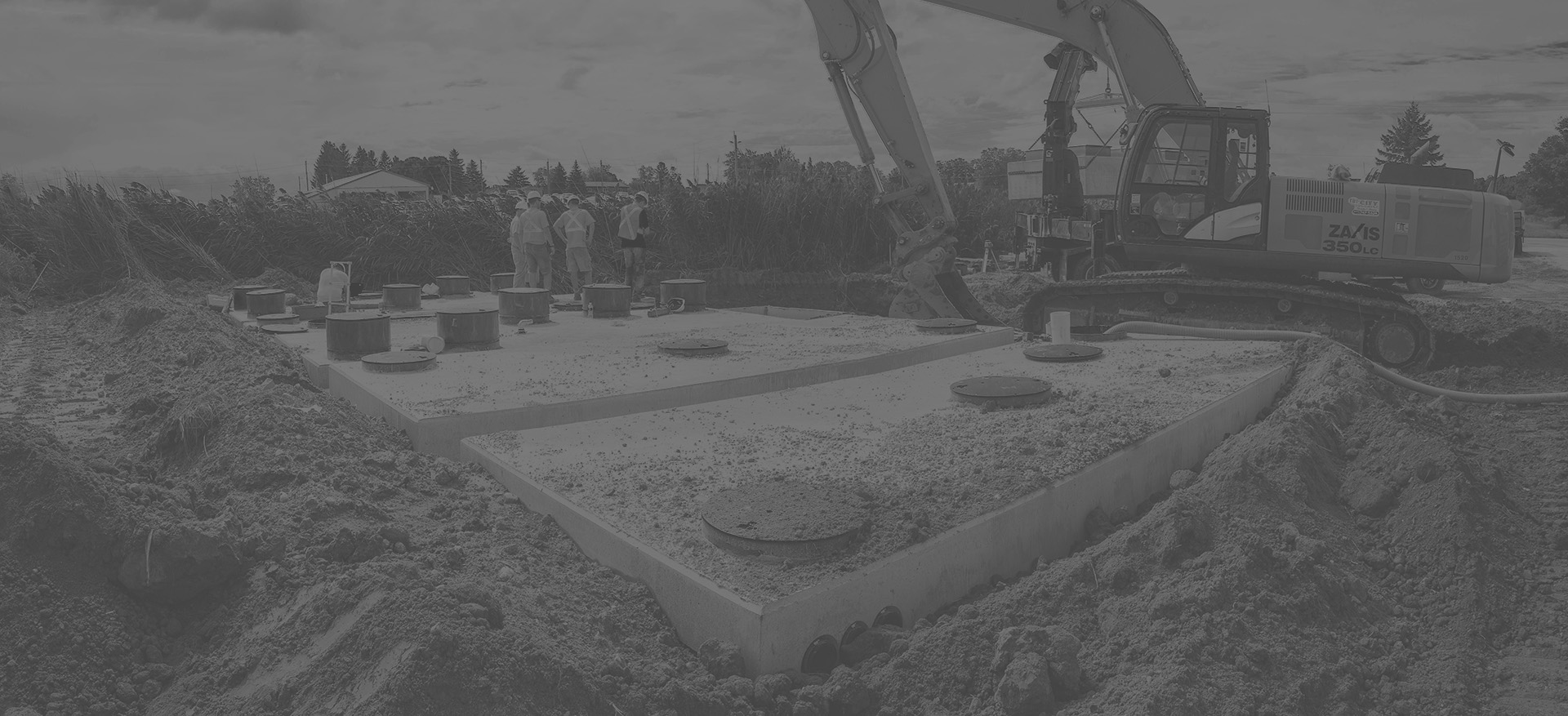 pioneer SEPTIC Solutions IS A FAMILY OWNED AND OPERATED SEPTIC INSTALLATION BUSINESS BASED NEAR GUELPH, ONTARIO AND SERVING SOUTHERN ONTARIO WITH OVER 20 YEARS OF QUALITY SERVICE AND EXPERIENCE.
Our services include the design of septic systems, supply and installation of septic systems, water and sewer hookup (underground services), excavation for any need (foundations, driveways, ponds, etc.), backfilling, trenching, grading. If you require septic tank pumping please reach out to our sister company, Snorks Septic Service.
 
WE SPECIALIZE IN MAINTAINING RESIDENTIAL SEPTIC SYSTEMS IN AN ENVIRONMENTALLY FRIENDLY MANNER!
We provide the following services while we are there:
• Pump, repair, maintain septic systems
• Provide septic system inspection report
• Rejuvenate septic systems
• Install risers and lids
• Install filters, pumps
• Pumping catch basins
We are a member of the Ontario Wastewater Association
YOUR SEPTIC system AND THE ENVIRONMENT:
Protecting the environment is uppermost in our thoughts and actions today. You can do your part by operating your septic system in an environmentally friendly manner. How can you protect the environment? The answer lies in pumping frequency. It is important to remove sludge from your septic tank at regular intervals in order to maintain its effectiveness.
PROPER MAINTENANCE:
• Keeping your septic system properly maintained is crucial to the life span of your system. Many systems are ruined because inspection and maintenance have been "put off" until next year. Some people put off maintenance because they do not know the location of their tanks. We provide you with this service.
• Some people feel that as long as the system is functioning, pumping is not required. Others feel that by putting additives in their tanks, pumping can be delayed.
• Remove digested sludge on a regular basis to ensure the life of your tile bed. Check baffles to ensure that solids are prevented from entering the tile bed. Keep pumping frequency to three years or less, depending on your individual situation.
ALL SEPTIC systems HAVE ONE THING IN COMMON: THEY CAN'T BE Ignored.
A little bit of attention goes a long way, and is called for no matter what situation you find yourself in. Your septic system is something we rely on every day, as much as the furnace or the fixtures, and it should be just as high on anyone's list of home upkeep and repairs.
A GOOD SEPTIC SYSTEM IS ONE OF THE MOST IMPORTANT PARTS OF A WORKING HOME!
People in every situation, from homeowners and renovators to resale buyers and builders of new homes, need to think about septic systems when making their plans. These systems are far from identical: they are customized by the experts to overcome all sorts of challenges presented by different properties and homes. If you're planning on doing some work or making a purchase, or if you're just a long-time homeowner whose first instinct was to skim past this page, set aside some time to call a professional and discuss your septic system.
ADDITIONS:
As a rule of thumb, any renovation that adds 15% or more to the size of a home calls the septic system into consideration. Interior renovations that greatly increase the number of fixtures – adding bathrooms, laundry rooms and the like – naturally require the most attention. If the increase in flow from the home is great enough, you may need to expand your septic tank, bed or both. Though this is usually feasible, there are many cases where the time and money is better spent on a replacement. A forty-year-old septic system may be nearing the end of its reliable life span, and may present special difficulties to a contractor attempting to add to it, while a brand new system can bring peace of mind for another forty years.
new homes:
When building a new home, the wisest thing to do is to include the septic system in your plans from day one. Depending on the size of the lot and the house to be built, and the soil conditions in the area, there will be questions of size and positioning for the septic bed that might effect the entire project. On a small lot in an area with more clay than sand in the soil, installing a traditional septic system might require some strategic design and placement. Even on large lots, some areas might be preferable to others that are costly and troublesome – preferable enough to warrant working your home and landscape designs around an efficient septic system. Other factors, like the installation of pools, water features and home irrigation systems, can further complicate matters, making early septic planning a necessity. Of course, modern treatment systems are available to surmount nearly any obstacle. Ranging from the space-saving to the truly compact, these treatment and filtration devices can be installed in slopes, in vertical spaces and even above ground. But most of the time they are seen as something of a necessary evil – they can cost up to twenty and thirty thousand dollars, compared to most traditional filter beds which cost well under ten, and they carry a higher and more frequent maintenance bill. Most new homeowners who end up with a special treatment system find themselves wishing they had reworked their plans to incorporate the traditional tank-and-bed.

old homes:
Many people have an out-of-sight, out-of-mind attitude about their septic systems. After all, it's easy to assume they are down there doing their thing while you're up here doing yours, but in fact, neglecting a septic system is a costly mistake. The most common problem is a lack of pumping, which should be done every two to five years. Though many systems cling on for decades through sheer luck, the danger of losing the entire bed to a layer of impenetrable biomass is high. Needless to say, replacing the entire system is expensive and work intensive. Many people also unknowingly damage their septic systems by draining large amounts of water softener or sump-pump output into their tanks. While the former begins to deteriorate the inside of the tank, the latter is in fact illegal and can easily flood out the whole system. Proper septic maintenance is not only important, it's required by the township, which keeps records of regular system checkups. Unfortunately, the high volume of paperwork and the difficulty of keeping track of homeowners makes it easy to fall behind on the task – but this doesn't lessen the need for upkeep. These things must be considered with regards not only to the home you live in, but to any home you buy or sell. Many standard real estate contracts include a clause that makes the current owner responsible for the septic system for two years after the date of sale. When buying a home, its possible to call for a professional inspection and waive this clause to avoid complications; when selling one, an advance inspection will ensure you won't be spending money on a home you no longer own months down the road. Professional septic contractors have ways to benchmark a system, while also identifying possible problems and necessary maintenance.
WHAT IS ECOETHIC?
Ordinary household cleaners, soaps and chemicals can overload and damage our septic systems. EcoEthic Septic System Treatment contains all the necessary and beneficial bacteria that digest waste in the septic tank, helping prevent harmful solids from entering the tile field.
Improves system function
Reduces solids in septic tank
Cleans tanks, pipe lines & drains
Eliminates odours
Environmentally beneficial
Complete bacteria and enzyme formula
Certified by Environment Canada's Ecologo Program
DOWNLOAD OUR FREE INFORMATION BOOKLET BY CLICKING HERE
FOR GREATER UNDERSTANDING OF THE NATURAL WATER CYCLES AND WASTEWATER TREATMENT SYSTEM, WE HAVE INCLUDED THESE FOLLOWING LINK REGARDING THE MANUFACTURE, DESIGN & IMPLEMENTATION OF SEPTIC SYSTEMS FROM THE MOST TECHNOLOGICALLY ADVANCED MANUFACTURERS.
PIONEER SEPTIC SOLUTIONS INC.
7197 WELLINGTON ROAD 30, RR 1 ARISS ON, N0B 1B0
PH: 519.763.3349 • FAX: 519.763.2741
EMAIL: admin@pioneer-snorks.ca